The High Skies Adventures of Blue Jay The Pirate, is the first book ever written about one of the most notorious and admired characters in Avian (bird) history. Blue Jay was, on one wing, the most famous and infamous in the land and skies, terrorizing merchant ships that sailed the tradewinds across the Colonies. He and his crew plucked incalculable amounts of goods and treasure out of the sky and, as you will learn from this book, from below ground. On the other wing, through his actions Blue Jay unwittingly became the spiritual leader of a revolution that changed the course of history.
At it's core, the story of Blue Jay is one of intrigue, mystery and adventure, a seafaring yarn turned on it' head by tossing a flock of winged sailors in the air, where they swoop and soar in search of treasure and adventure.
The book is available in bookstores throughout the free world  or you can them through INDIEBOUND or at AMAZON.
Author Scott Nash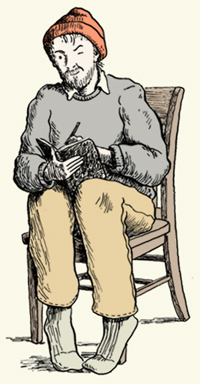 VISIT SCOTTNASHILLUSTRATION.COM